Home
›
Community
WIP: Combat Jugglvr
I'm not a dead dev yet but I hope you guys aren't dead with regards to giving playtesting feedback! So I'm working on this monstrosity project right now called Combat JugglVR and I've got a keyboard version up on itch.io
https://taps1992.itch.io/combat-jugglvr?secret=f7wqk1FjJcdFonHlTIPk9wP1LaI
It's slated to be out for VR + Keyboard, but traveling to and fro a friend's place has set me back logistically, but I want to get as much feedback as possible on this while I have a working keyboard version, so I do have a couple of specific questions in mind:
1. Does the title Combat JugglVR make sense? This title came out because it's based on real life combat juggling* where you'd butt heads with jugglers with clubs and be the last man standing. I wanted to develop this for multiplayer too, but I've scaled down to just focusing on getting single player out. So does it still make sense to call in Combat JugglVR even without the multiplayer element?
2. How intuitive are the keyboard controls? And by extension, do you think the game can also stand alone as a keyboard game?
3. What's a good price point? I'm thinking $5 for a mini game like this, but I've seen more expensive/cheaper ones, keeping in mind that it's also for VR.
4. Is the UI screwing up in your monitor? I've tested this outside of Unity and it seems like the scaling went off.
*Example of real life combat juggling: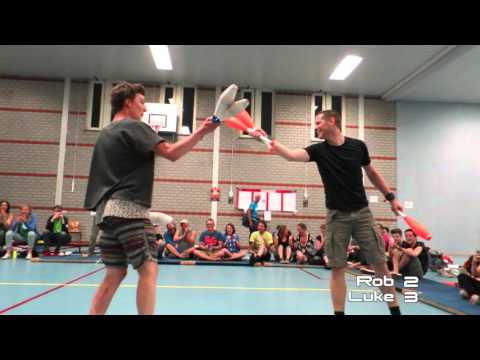 Post edited by taps1992 on