Home
›
Games
Of Blizzard, Tracer, and LGBT representation.
I love Xmas*. Whatever the significance of the holiday is to you it's hard to disagree with the sentiment that it's a time to just be happy, thoughtful and positive. To just put aside cares and woes and look forward with family, friends, or just be at peace with yourself, this is the very spirit that the latest Overwatch comic captures, where the characters all take time out of being supersoldiers to just be people, and it's fantastic. We see Genji meditating with Zenyatta, Pharah sharing a meal, Torbjorn and Reinhardt doing charity for what looks like an orphanage, Ana, 76, and Reaper thinking of the families they left behind, Widowmaker setting flowers at her husband's grave.
But you already know who I'm going to talk about. Yes, in this very comic Tracer and her romantic partner share a kiss, confirming that Tracer is the very first confirmed gay (or at least non hetero) Overwatch character**.
Like, this is pretty big. Tracer is easily the most marketed character and the mascot of the game. She's on the friggin' box even! And lets not forget the buttgate nontroversy where, I'm sorry to say, but mostly straight males got upset that maybe Blizzard were unsexualising their favourite game crush. Well turns out Blizzard
are
sexualising her further, but not in the way I think anyone really expected.
The fact this has been a surprise, is great. Not every lesbian dyes their hair blue and pierces their face, just as not every gay man dances around like a queen. Who's gay or straight or not can genuinely surprise you as it could be anyone, and Blizzard reflect this by not going the easy route which would have been to make a stereotypical or side character as their first foray into the rainbow world of diversity.
In fact, here's a list of what I, a
TOP 500 STRAIGHT MALE
, believe would have been easier for Blizzard to insert a non-heteronormative narrative in to come under less fire from homophobes yet to cynically show they're doing their part for representation.
- Nobody or anybody...
This is what we previously had. Blizzard had stated a while back that they do have at least a gay character in Overwatch, and then refused to tell us who it was. And for most folk, this was enough, but for anyone who actually cares about representation and diversity, this was a massive cop-out. At this point, both Ana and Widowmaker have had their probably straight sexualities referenced in lore (Ana has a biological child, Widowmaker had a husband) but to say "we can't tell you" when it comes to the idea of a gay character is gutless and serves to further the idea that "the gays" should only keep their "gay stuff" in private.
That's if it had no follow-up, except Blizzard now have followed up and have shown that they do indeed possess a spine. That's the point of my post really.
- Zarya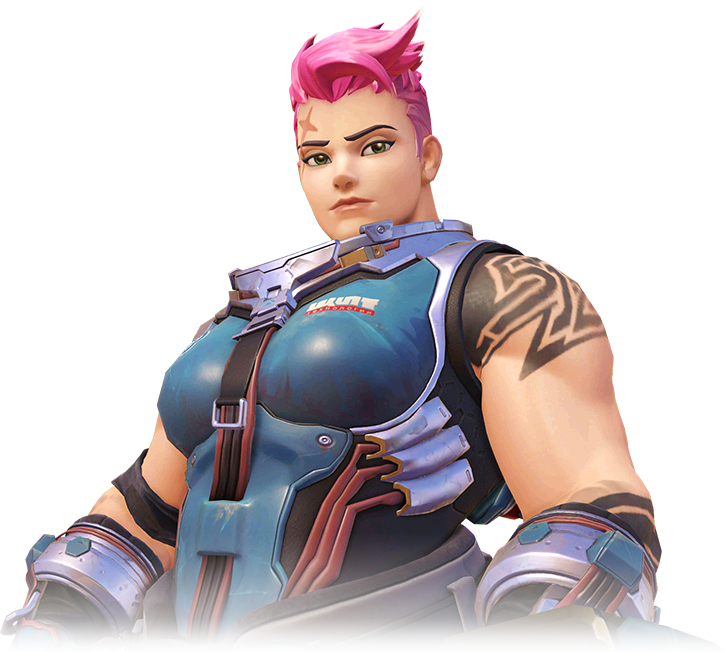 Next in rank of general easiness, at least in appealing to both the LGBT community and the general public. I mean, it was obvious right? The least feminine girl in the game is clearly gay, because that's how it works. She even has tattoos and an undercut!
Well no, not really. Like she still could be gay, but she could also be straight. There are loads of straight female body builders, punk rock chicks, and general tomboys. Zarya's choice of fashion doesn't mean shit to her sexuality and thankfully Blizzard recognise that.
- Zenyatta/Bastion
"Haha! It's a gay robot! That's so funny, right? And it appeals to my homophobic nature because I know it's not real. Gays aren't people. That's so FUCKING funny! Please hold me..."
See, a gay Zenyatta or Bastion could open up discussion over whether or not an artificial intelligence could develop a sexual identity. It would be interesting. Except that wouldn't be the reaction, the above would. Even Adam Sandler thinks the idea of a gay robot is funny, that's how bad of an idea this would have been.
- PharMercy

Maybe some folk need some background on this one.
Very early on in the game's release it became apparent that Pharah (right) and Mercy (left) was a strong combo. Pharah's mobility helps Mercy get around, and Mercy generally has an easier job supporting Pharah than anyone else. The internet, being the internet, immediately shipped these two under the brilliant name, PharMercy.
Now I'm not saying this would have been an easy sell to any staunch homophobe, but I think that Blizzard would have pick up way more community cred had they made this pairing canon. Any backlash could be met with "well they listen to the community" which is why, despite not being easy, I think this would've been an easier pick than the poster girl, Tracer.
- Roadhog
Like PharMercy this wouldn't have been an easy sell to homophobes, but to straight male homophobes it could be easily ignored. None of them are fantasing over this guy, and fat gay dudes are funny, at least that's what 4chan told me 8 years ago. Plus he's the most side character of the game, I'm sure not many would've given a shit. And yet Blizzard would rake in the praise from at least the gay male community. Plus Roadhog follows Junkrat around, and he's sorta handsome, so it makes some degree of sense.
I don't think it's controversial to say that all these characters would have been easier to portray as non-hetero if given a cynical mindset of making goodwill with the community but mitigating as much backlash as possible. I'm personally disappointed that Blizzard have sorta put the pin in the PharMercy bubble, but I recognise that's just because I'm a leery bastard.
However, there are two options that Blizzard could've taken that I think would've maybe better served LGBT diversity in the mainstream, but may have been met with a shit ton of backlash.
- Hanzo/McCree
Proof that I didn't just pull this out of my arse, the Hanzo/McCree pairing, while less talked about than PharMercy, is still a 'thing' in certain Overwatch fan communities. Why is this less talked about? Well while girls gettin' it on is totally hot, it's really hard to sell genuine male sexuality. This bothers me a lot, especially in mainstream media. It's like we just stopped at Brookeback Mountain (which is now more joked about than anything) and said, "That's it lads, we're done, time to go home."
Society seems to have a much harder problem thinking of gay men as sexually romantic and I think more representation in this department would be marginally more beneficial to normalising LGBT behaviour in media.
- A trans character
And finally, while it's still not that easy for homosexual or bisexual folk to get decent representation in media, nobody can deny it's a whole lot harder for trans-folk. On the odd occasion that they do, the backlash is far more substantial. If Blizzard were to make it canon that any one of their characters were in fact trans, it would've been a massive step towards representation, but a massive controversy too. Cynically speaking, this would probably be more trouble for the company than they may feel is worth it.
But let's not take the wind out of Blizzard's and LGBT Overwatch fan's sales. Having the very mascot of a game as big as Overwatch be canonically gay is a HUGE deal. It's completely unprecedented within the games industry. As I've pointed out, Blizzard could have taken a few easier routes, and they deserve a ton of credit for not doing so or copping-out.
And Merry Xmas.
* No, I'm not trying to make Xmas secular by renaming it. The X in Xmas stands for Christ, and the word Xmas should be pronounced Christmas.
** And no, we Brits don't just kiss each other, especially not full on the lips, to say thanks, just because we're in Europe. That sort of shit wouldn't even fly in Italy or France, here it's likely to get you knocked in the gabber, and try it in East Germany and you'll probably end up dying in a ditch somewhere.