Home
›
Games
A game you cannot get good at (Secret Hitler)
So about a month back i watched a GDC talk by he developers of Secret Hitler called "Secret Hitler: Designing Conflict & High-Tension Moments"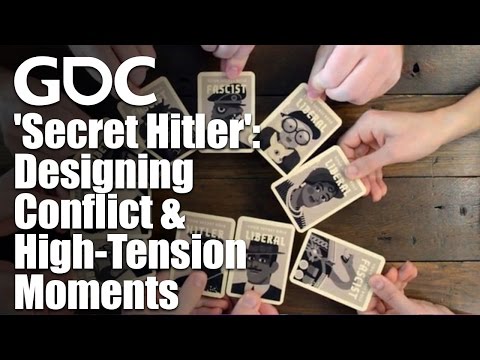 In the talk one of the devs
Mike Boxleiter talks about creating a game revolving around players tricking each other and good conflicts and what he changed in making the game from its inspiration. One of the lines he says towards the end recently got stuck in my head,"I don't think you can be good (at the game) because the game is so random and there's so much self balancing going on that if you get too far ahead you're eventually going to get rubber banded back"(20:02 in the video). Mike later explains that this philosophy behind the game is good because it makes for a fun board game. At first this seemed brilliant to me when i first heard it but now that i've had a chance to mull i don't think this philosophy is good for the game, because it translates being good at the game to being competitive and snuffs players ability to be competitive, which is the main draw.

Let's pretend Secret Hitler was in fact so good at creating tension and rebalancing itself that nobody can ever play the game well. The good thing is that the game is constantly close, there's a lot more tension and at any point in the game the payoff is very clear. What this means to me as a player is that no matter how many times i've played, i always have a chance to win even if i don't know what i'm doing. For the new player, that's great because they feel competitive in a game where they have to compete with other players. This is an especially nice change of pace from a lot of big multiplayer games today (Player Unknown Battleground, any Mobas, Fighting games), where you really don't feel like you can compete with other players until you've invested several hundred hours to the game. In Secret Hitler, and in any game which adopts the "fun > competitiveness" philosophy, you get to play at a level you maybe shouldn't be allowed to compete on because the game is constantly working in your favor. You feel like your individual performance is relevant to the game's outcome, and that idea is what keeps you invested in the swings and tension of the game. It's not until you've played the game a lot that you start to notice how little agency you have over the game.

The longer you play the game the more you recognize the fact that most of the initial turns are completely arbitrary and you will naturally take what should be big conflict creating decisions (like playing a fascist card) with a grain of salt. If you watch let's player play Secret Hitler you can see the first 10 or so games the game is fantastically fun, but quickly loses it's charm when players realize how much of they game they can't control. The idea of a game you can never be good at creates a fantastic experience the first time you play the game and then with every subsequent play as the mechanics of the game get figured out people will completely lose interest. The reason games with a high learning curve that ask for hundreds of hours of invest are popular is because improving in a game is an interesting challenge on it's own, compounded by the fact that other players are also looking to improve themselves. My individual play has an impact on who wins the game. That's important to me, and it's a big part of why multiplayer games are so fun. That competitiveness is what keeps a multiplayer game alive, and i don't think games which follow the hard line of "fun > competitiveness" will last.

Admittedly the game doesn't need to last to be good. Maybe i've spent too much time playing Moba's and fighting games and need to come down to what the average gamer wants out of their games. Back when we did those game nights i remember playing two rounds of secret hitler in the mumble (i was Hitler once :D) and it was really fun. While i love the game,
i don't think the mentality is sound in general. Would love to hear other people's thoughts on the topic.
Post edited by nujumkey on
youtube.com/nujumkey
Twitter is
@nujumkey
Steam is Nujumkey